Scrooge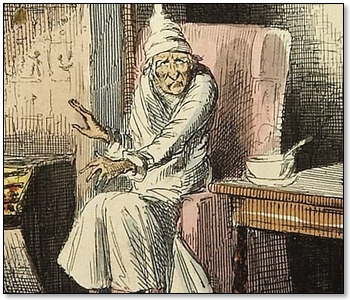 Ebenezer Scrooge
Ebenezer Scrooge is the main character in "A Christmas Carol" by Charles Dickens.
Ebenezer Scrooge is a bitter, elderly, man and the owner of the company "Scrooge & Marley" in London. He is cold, grumpy and only cares about his income, spending time going over the account books. He resents having to give his accountant Bob Cratchit a paid day off on Christmas Day, even though he only pays Cratchit a starvation level wage, and he demands that Cratchit show up at work early on Boxing Day to make up for the lost time. Christmas wishes and social pleasantries irritate him, and he rejects an invitation to spend Christmas with his nephew's family. He returns instead to his dark and gloomy home to spend Christmas alone.
On his way home Scrooge heaps verbal abuse on two gentlemen who asked him for a contribution for the poor, and on a boy who begs for some loose change in exchange for singing a merry Christmas carol (likely the reason for the name of the story).
Everyone hates Scrooge and keep away from him.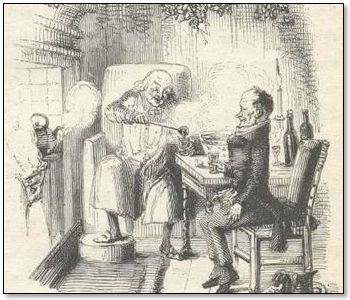 Scooge and Bob Cratchit
Scrooge's former business partner, Jacob Marley, died seven years earlier on Christmas Eve. Scrooge lives in Marley's old house, which he has inherited. Marley was Scrooge's only friend. While spending Christmas Eve alone and in the dark to save money on candles, Scrooge is visited by the ghost of his dead business partner, who was like Scrooge in life. Marley is repentant for how he has lived his own life, but it is too late for him. Marley's ghost appears in chains; because of his miserliness Marley has been sentenced to eternal work. A similar fate awaits Scrooge if he does not repent. Marley begs Scrooge to change his ways. To help Scrooge see the error of his ways, Marley promises to send him three more spirits. During the course of the night, Scrooge is visited by the Ghosts of Christmases Past, Present and Future. Each of the Christmas ghosts shows Scrooge and aspect of his life, while the ghost of Christmas Future shows Scrooge what his life will be like if he does not repent; he is also shown how people will remember him once he dies.
The first sprit to visit Scrooge is the Ghost of Christmas Past. He shows Scrooge his own past: his loneliness as a child, his mistakes, his sins, which made him the man is. Devastated by this vision, Scrooge drives the first specter away.
Next Scrooge is visited by the Ghost of Christmas Present. The second specter shows the celebration of Christmas for many of his acquaintances, including his nephew Fred and the Cratchit family, all poor but happy together in the celebrations, although not as rich as him. Through this vision, Scrooge learns of the existence of Tiny Tim, a little sick child who may soon die if they do not have care, but which his father, Bob Cratchit, can not afford on the starvation wages that Scrooge pays him -- and yet, despite this, the vision shows Cratchit offering a sincere toast to his employer.

An Early Film Adaptation of The Christmas Carol
with Seymour Hicks as Scrooge.


Cratchit is then visited by the Ghost of Christmases Future. The last ghost shows Scrooge what will happen to Tiny Tim, who will die on a future Christmas Eve. The sincere sadness felt by everyone at Tiny Tim's death is contrasted by the scorn and derision of the happy mourners commenting on someone else's death. The name of the other dead person is not revealed until the last moment, when Scrooge sees his own name on the grave marker. At this moment the old man repents and wakes up in his own bed.
The next morning is Christmas Day. Having learned his lesson from the spirits's intervention, Scrooge sends a boy to buy a huge turkey from a nearby shop and send it to the home of Bob Cratchit. Scrooge then shaves and dresses up, and goes out into the street, greeting everyone with friendship and then finds the courage to show up at the door of his nephew, his only living relative. Scrooge is warmly welcomed by his nephew and they pass the finest Christmas of his life together.
The next morning, anxiously awaits the arrival of Bob Cratchit, who comes in late, still unaware of the change in his employer. Instead of being angry at Cratchit's late arrival, Scrooge gives Cratchit a big raise and paid vacation time as an apology for his own behaviour. Cratchit is so surprised by the change that at first he thinks that Scrooge has gone insane.
Scrooge also begins to take care of the Cratchit family, especially Tiny Tim, who heals. Thanks to his treatment of Tiny Tim, Scrooge earns the trust and affection of the entire Cratchit family.
In the novel, Ebenezer Scrooge is described as an old man, unmarried and childless. The Dickens character has inspired a number of other fictional characters including the cartoon character of Scrooge McDuck.