The Old Curiosity Shop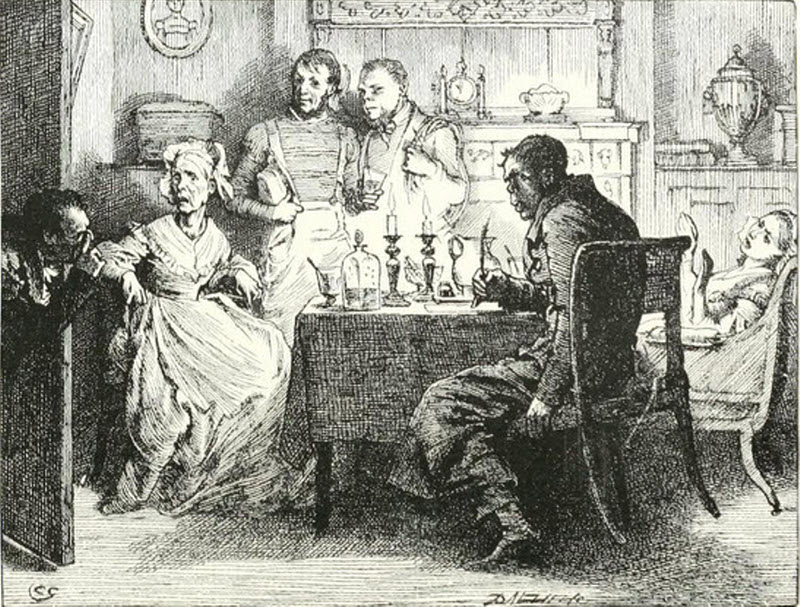 The Old Curiosity Shop
is a novel by English writer
Charles Dickens
, published in installments between 1840 and 1841. The novel tells about the life of Nell Trent and her grandfather, living in London in an antique shop.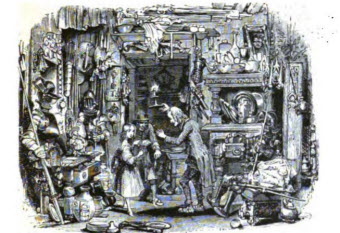 The Old Curiosity Shop


The Old Curiosity Shop was one of two novels (the other is Barnaby Rudge) which Dickens serialized in his weekly magazine called Master Humphrey's Clock. The installments were published between 1840 and 1841 and then republished in a single volume in 1841. The novel caused a sensation at the time because the protagonist, Nell, dies in the end, which was contrary to public taste at the time which favoured happy endings. The ending sparked pubic demonstrations against the author and his decision to kill off his character.
Plot Summary of the Old Curiosity Shop
---
The novel tells the story of Nell Trent, a beautiful and virtuous young girl who has not attained the age of fourteen. Being an orphan, Nell lives with his grandfather (whose name is never revealed) in his antique shop, which the book its title. Although she is very much loved by her grandfather, Nell leads a lonely existence and has very few companions her own age. Her only friend is Kit, a young boy and honest employee who also lives in the shop, and whom Nell is teaching to read and write.
Secretly obsessed with ensuring that Nell does not die in poverty, her grandfather turns to gambling in a misguided effort to make money. But he has little luck, and becomes heavily indebted to Daniel Quilp, a malicious and deformed money lender (who then drowns in the river Thames towards the end of the book). Unable to repay his debts, Nell's grandfather loses the store. He and Nell are driven out onto the streets and survive by begging, wandering all over London and surrounding area.
Old Curiosity Shop: Nell and Her Grandfather Thrown Out on the Street
Meanwhile, Nell's brother is convinced that the grandfather has hidden money for Nell and forms a plan to have his simpleton friend Mr. Swiveller marry Nell so that they can share in the supposed fortune. The two, aided by the malicious Mr. Quilp pursue Nell and her grandfather. Quilp knows that there is no money but he joins in the scheme for the simple sadistic pleasure of tormenting Nell.
As Nell and her grandfather wander through Victorian England they meet different and peculiar characters, like puppeteers, the ambitious owner of a wax museum, who calls itself the "Marquise", a dog trainer, and an iron smith who speaks to the fire of his forge. After many adventures and difficulties they arrive in quiet town, where they are helped by an old man referred to as the "Bachelor". Everything now seems to be going well, but Nell is sad and lonely, and starts spending all her time in the village cemetery, which is the only place where she seems at ease. Soon Nell dies, making her grandfather and all who love her mad with grief.
Many readers were dismayed by Dickens' decision to kill off his main character. But many crtics found the ending melodramatic and maudlin. Oscar Wilde remarked that 'One would have to have a heart of stone to read the death of little Nell without dissolving into tears...of laughter.'
Characters in the Old Curiosity Shop
---
Nell (often called "Nelly" or "Little Nell") -- sweet and gentle girl. She accompanies her grandfather during his travels through England and appears very tolerant towards him. At the end of the novel dies, having long shown symptoms of melancholy and apathy.
Grandpa -- Nell's grandfather. His name is never mentioned. He is an old antique dealer who spends most of his money in gambling because he wants to get enough money to ensure that granddaughter, to whom he is extremely attached, a future without problems. Impoverished by the perfidious Quilp who had lent him money, he and Nell start a journey without a precise destination, during which he continuous to gamble what little money they have left. Nell, because of the affection she feels for her grandfather is unable to oppose him firmly enough, and is unable to prevent him from dissipating all their savings except for a coin that she had sewn into her dress.
| | | |
| --- | --- | --- |
| Mr. Quilp Frightens Little Nell | | |
Christopher "Kit" Nubbles -- friend and servant of Nell. He is framed for theft by Quilp, and jailed, but he is released and goes to save Nell.
Quilp is the novel's antagonist -- a wicked and cruel hunchbacked dwarf. He contributes to the ruin of Nell and her grandfather by lending the grandfather money to finance his gambling, and then evicts them from the Old Curiosity Shop. He is a cruel man, always beating his servant with a stick. Quilp falls into the Thames during a night of fog and drowns. His death is believed to be a suicide.
Frederick Trent -- Nell's scheming brother. Believing that the grandfather has indeed accumulated a fortune, he schemes to have his friend marry Nell so that the two can share in the supposed treasure.
Richard 'Dick' Swiveller -- Dick's manipulated friend. He is a clerk in the law office of Sampson Brass and the Marchioness's guardian. Swiveller is originally an ally of Quilp and Frederick Trent, but eventually breaks free and becomes a force for good. If there is a happy ending in the book, it is for Dick: he eventually inherits money, and marries the Marchioness.
| | | |
| --- | --- | --- |
| Mr. Swiveller | | |
The single gentleman -- One of the many unnamed characters in the book. He is the estranged younger brother of Nell's grandfather. He leads the search for Nell and her grandfather.
Mr. Sampson Brass -- a groveling and corrupt attorney. He works for Mr. Quilp.
Miss Sarah ('Sally') Brass -- Mr. Brass's sister and clerk. She is a domineering woman often referred to as the "dragon".
Mrs. Jarley, proprietor of a travelling waxworks show, who takes in Nell and her grandfather out of kindness.
The 'small servant' -- Miss Brass's maidservant. Dick Swiveller befriends her and, finding that she does not know her age or name or parents, nicknames her 'The Marquise'. In the original manuscript, there is a suggestion that she is the illegitimate daughter of Quilp and Miss Brass but this reference was removed in the publication. Swiveller later marries her.