Miss Havisham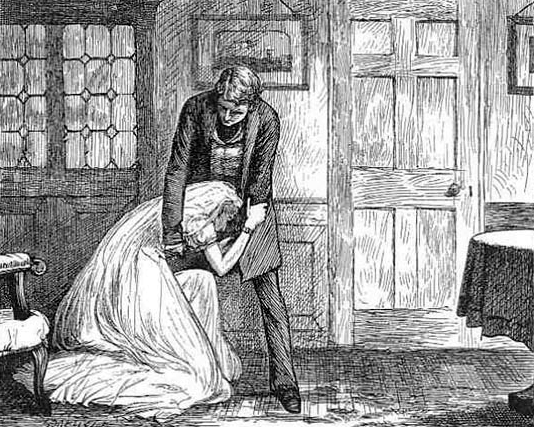 Miss Havisham Begs Pip For Forgiveness
Miss Havisham is a fictional character in the novel Great Expectations by Charles Dickens. She is a rich, middle-aged woman and mentally unstable due to a trauma. She lives in her luxurious home in ruins with her adopted daughter, Estella. The blinds are always drawn and no sunlight enters her home.
Despite often being portrayed in films based on the novel as an old woman, in the novel Dickens describes Miss Havisham as a woman of about fifty years of age. Although it is stated in the book that having lived away from sunlight for a long time, has aged Miss Havisham considerably. She is Described as looking like a cross between a wax statue and a skeleton.
Miss Havisham's mother died when she was still a child, and her father, a wealthy landowner, distanced himself from her. When he died, he bequeathed the majority of his fortune to Miss Havisham.
As an adult, she fell in love with a man named Compeyson, who was interested only in her money. her cousin Matthew Pocket warned her about the man, but she was too in love to listen. At nine twenty, on the day of the marriage, while she was wearing her wedding dress, the Havisham received a letter from Compeyson and realized that she had been duped and abandoned on the altar on her wedding day. Humiliated and hurt, Havisham stopped all the clocks in the house at the exact moment when she discovered the fraud. From that day on, she remained locked in the huge house in decay huge decaying house, never removing the wedding gown, leaving intact to rot on the table a wedding cake, and allowing only a small circle of people to see her.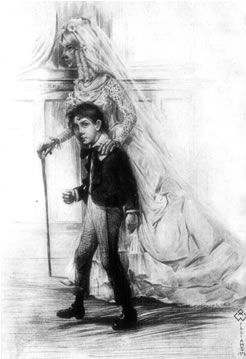 Miss Havisham and Pip
Later Miss Havisham adopted an orphan girl, Estella. While Estella was still a child, Miss Havisham began looking for boys with whom she could practice at breaking their hearts. In this way, using Estella, Miss Havisham wanted to avenge the wrong suffered, by wounding the feelings of men.
Miss Havisham reappears at the end of the book when Estella is about to marry Pip's rival, the obnoxious Drummle Bentley, and realizes that she has broken the heart of Pip in the same manner in which years earlier hers had been broken. Instead of being satisfied, Havisham realizes that pain that she has caused and begs Pip to forgive her.
Once Pip is gone, the Miss Havisham's dress catches fire from a firebrand fallen from the ceiling. Pip comes back and tries to save her but she has been too badly burned and dies a few weeks later.
The character of Miss Havisham is believed to be based on a real person. Eliza Emily Donnithorne (1827-1886) of Camperdown, Sydney, Australia, was abandoned by her fiancÚ on their wedding day in 1846 and spent the rest of her life in a house obscured by darkness, leaving the wedding cake to rot on the table, and the door always open in case her fiancÚ were to return (although he died in 1852). Donnithorne was widely regarded at the time the source of inspiration for the character of Dickens's Miss Havisham, although this can not be stated with certainty.